Europe Direct South Ostrobothnia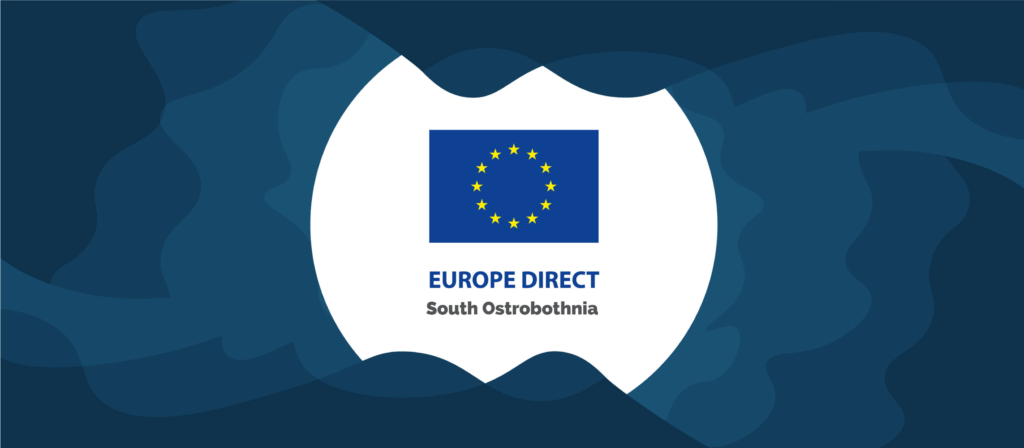 It is mind broadening to understand how global issues have an impact in our lives here in South Ostrobothnia. The Europe Direct South Ostrobothnia explains how European Union affects our region.
We give you information about e.g. EU-funded projects and funding opportunities as well as international events in our region.
What can we offer you?
You can contact us when you have questions about EU's policies, political priorities, funding programmes and your rights in the EU. We will answer your questions as soon as possible. You are also warmly welcome to join our events concerning the future of the EU and other current EU topics.
We also visit local schools where we give presentations. In addition, we organise discussions about the EU and distribute official publications and brochures to our region's actors. All our services are carried out free of charge for the citizens.
Please note that we cannot offer legal advice or interpret EU legislation. However, we can refer you to other EU services which are responsible for solving specific types of problems.
You can also follow us on Facebook, Twitter and Instagram and subscribe to our newsletter. Please note that on our social media channels and in our newsletters we provide information only in Finnish.
Who are we?
Europe Direct South Ostrobothnia is a member of the Europe Direct Network in Finland, which in turn is part of a Europe-wide family of Europe Direct centres. The centres, also known as EDICs, make Europe accessible to citizens on the ground and get them engaged in debates on the future of the EU.
You can find further information about Europe Direct Network on European Union's website.
The network is managed by the European Commission and the Finnish Europe Direct network is coordinated by the European Commission's Representation in Finland. Find your own national representation on the European Commission's website.
In questions regarding the activities of the European Parliament you can also contact your national European Parliament Liason Office. Find your own national Liason Office on the European Parliament's website.