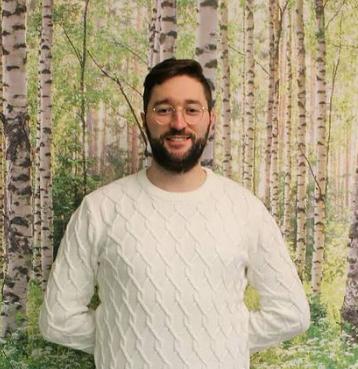 Hi! My name is Oskar Śniegowski, and I work as a Project Assistant at The Regional Council of South Ostrobothnia since December 2021. Already after the first few weeks of working here, I understood that accepting this job offer was the best decision I had made in a long while.
Before getting to know everybody and starting my work, I was slightly concerned about how it will be. A natural thing I would say being concerned about how your new workplace will be, how people will treat you, how is the atmosphere in the office, will it feel more like a work camp than a workplace. I was asking myself all these questions. Only to be so positively surprised when I finally came to the office for the first time.
Everybody was so welcoming, open, and friendly. It made me feel like a part of a team right from the get-go. This really helped me to start and motivated me to work hard in the next few days while I was learning all the ins and outs of my new position. People working here are definitely a true asset of this organisation. I absolutely enjoy working at the RCSO and honestly recommend it as an employer.
As a Project Assistant for the EU projects, I am currently involved in two important endeavours. FRIDGE project and INTENCIVE project.
The first one, FRIDGE, focuses on helping the small and medium-size enterprises from European food and drink industries to become more competitive and find more clients for their unique (often local specialities only in that part of Europe) products. We analyse the market, conduct research and surveys, and collect the best practices implemented in partner regions to improve productivity and competitiveness. In March, we met in Seinäjoki with representatives of many different local SMEs, and they shared their knowledge with us and project partners from five other European countries. Soon we are concluding our project with a detailed report that will be made available to anyone interested completely for free. In the beginning, it was just paperwork to me, but after meeting these entrepreneurs in person, learning their stories and their plans for the future, it became more personal. I really want to help these talented and entrepreneurial people achieve their goals and the whole region to grow. The RCSO is doing a fantastic job helping them, and this humane aspect of my work is really what makes it enjoyable to me.
The INTENCIVE project focuses on facing the challenges of an ageing society and supporting elderly citizens in their homes. It is interesting to me because of all the modern technology it involves. We research different eHealth solutions and discuss what could be implemented here in South Ostrobothnia. It is interesting to cooperate with SeAMK on this project and learn so much about innovative local solutions that make for a better future for all of us.
These are the two projects that I am involved in on a daily basis, but there have been a few more that I helped with. As I mentioned earlier, my job gives me a great dose of satisfaction as I can meet and get to know people whom the RCSO is helping and see solutions we suggest being implemented. Not only in South Ostrobothnia but also by our international partners in their regions. Partners learn from us and implement our local ideas in their local environment. That is where satisfaction and motivation to do better come from. From being able to make an actual positive change in somebody's life.
Making a difference. This is what the Regional Council of South Ostrobothnia is about in my opinion, based on my experience here. I am very happy that I have a chance to be a part of this organisation and have my part in making South Ostrobothnia even more enjoyable place to live.
Oskar Śniegowski
Project Assistant